Read plumber blog - ASK THE TECHNICIAN
This plumber blog provides information on hiring a trustworthy plumber for your plumbing needs. It covers plumbing topics such as getting quotes, why to avoid commission-based plumbers, and what to look for in a reputable plumber to ensure high-quality service and fair pricing. All from JJ&A Mechanical plumber blog.

Choosing a Plumber. Why our reviews Speak for Themselves. When you are in need of plumbing services, it's essential to find a plumber who is trustworthy, reliable, and skilled in their work. A good plumber can make a significant difference in the quality of work performed, the safety of your home, and the longevity of
Read More »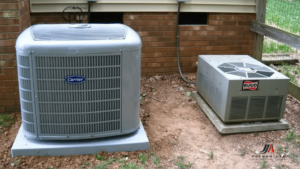 This question only really applies to those who either have a forced air system utilizing a furnace to heat their home OR if you are considering the high velocity system which can be installed in your attic. If you are wanting to go with a ductless mini split system then no need to concern yourself! 
Read More »