boilers repair - Best boiler repair man Vancouver
When it comes to boilers or "hydronic heating systems" there are many reasons why someone might need to hire a boiler repair man company like ours. Whether its regular maintenance that needs to be done before winter, troubleshooting existing problems and repairing them,  replacing/upgrading existing boilers or installing brand new boiler systems  JJ&A Mechanical has you covered!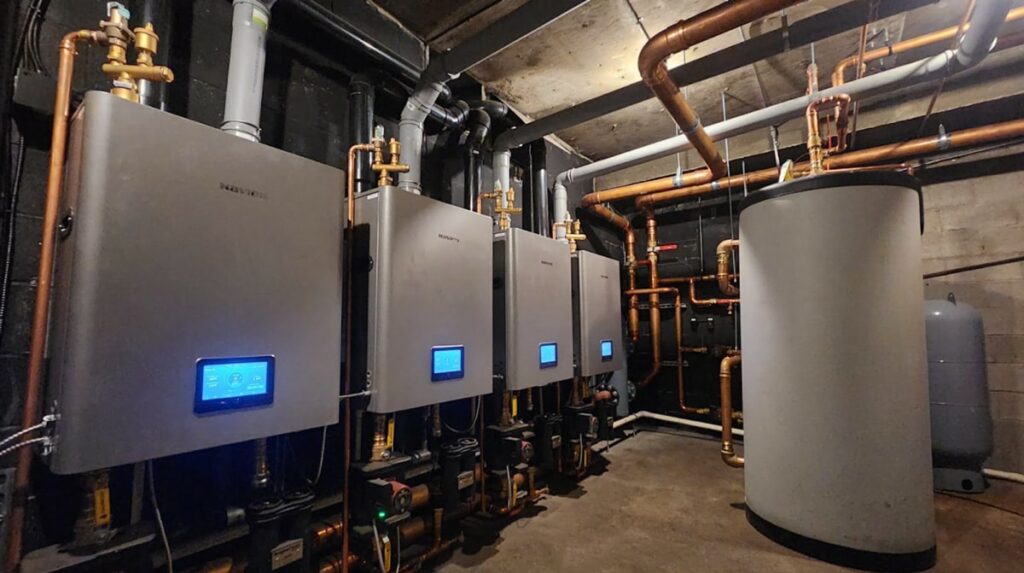 4 – Navien Boilers 399,000 BTU's each with 2 – 120 gallon Triangle Tube Smart Storage Tanks. This system provides heating and domestic hot water to an 80 unit apartment building.
Regular Boiler Maintenance
Boilers require regular maintenance very similar to the way your vehicle requires regular maintenance. If you skipped your vehicle's oil change for the first 4 years of its life your odds of having a major issue that requires costly repairs increases significantly. Its the exact same when it comes to boilers repair! Which is why we suggest having us perform a general service on your boiler annually before it starts getting cold enough that you need to start using heat again.
Replacing Boilers and Installing New Boilers including Combination Boilers
We specialize in installations and retrofits.    We are regularly replacing old, mid efficient, boiler systems with new high efficient systems.   Whether it's a 60,000 BTU boiler in your house or a 2,000,000 BTU boiler in your building we have the skill and the experience to recommend, design, and install the perfect system for you.
Diagnosing Existing Issues and Boilers Repair
Unlike routine maintenance, diagnosing and repairing problems with boilers/hydronic heating systems is a skill that varies significantly from technician to technician and requires a fair amount of experience in the trade. This is because issues with these systems are typically "layered". Meaning that there are usually surface level issues which are obvious that are caused by one, two or sometimes multiple underlying issues. 
Without the proper knowledge and experience people unfortunately end up paying for a lot of "bandaid" fixes on surface level issues that continue costing the customers more and more  money due to the fact that the underlying cause still exists. We are extremely lucky to have technicians that have the skills and necessary experience/knowledge to diagnose and do boilers repair for your   heatings systems the first time. We're here for you.
What is a

Combination Boiler?
If your home has a hot water tank and a boiler then this might be the perfect solution for you. A combination boiler does the job of the boiler and the tank all in one compact, wall hung, high efficient unit. With the combination boiler your is now a tankless water heater and you boiler is now a high efficient wall hung boiler. You will now have endless hot water for showering, bathing, dishes and laundry! See our tankless water heaters page for more information on what a tankless water heater is! 
This option will also qualify you for up to a $1500.00 rebate. Last but not least the combination boiler will last twice as long as your old hot water tank so that along with the savings on your utility bill will equate to a cheaper system over the long run although the upfront cost is more.
Follow us on Facebook to learn more about Combination Boiler.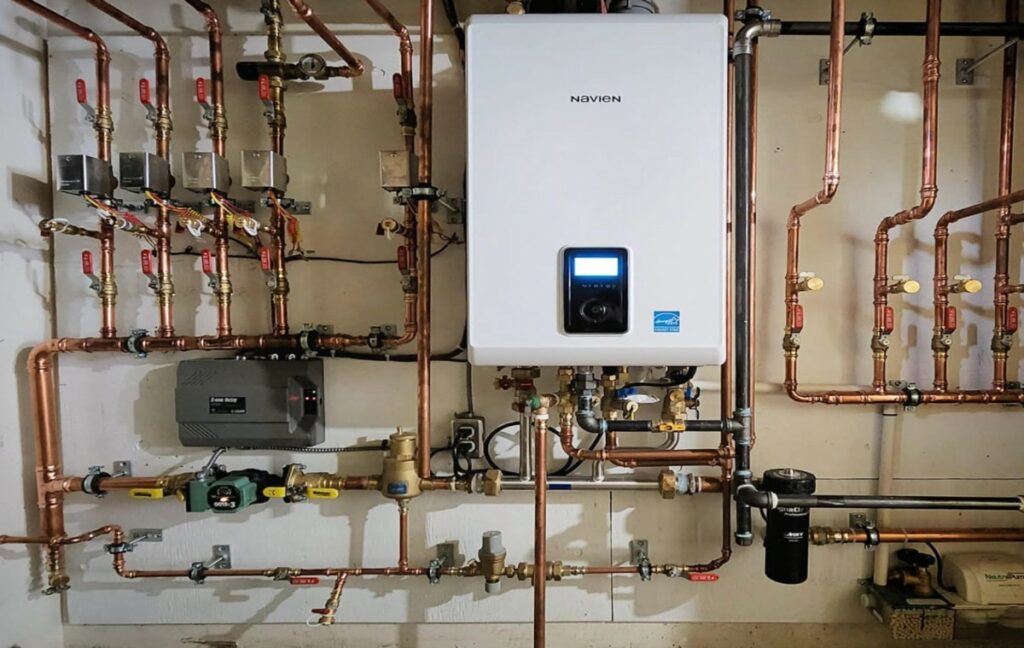 Combination Navien Boiler –  Provides Domestic Hot Water and Heating for a House.
We ask the right questions to provide you with the right service and technician. We learn about your issue first so you don't waste time or money getting you the result you need.
We provide free on site estimates. Our friendly managers will meet you on site, at your home or your business to go over your project in detail. A quote will be provided to you within 48 hours of meeting with us. 
Our technicians will arrive with everything they need for a job well done. Once completed, we will explain the work completed and answer any questions you may have and leave you feeling confident.
Our job isn't done when we leave. We always follow up to make sure you are happy with your service and to answer any outstanding questions or concerns.
For more information give us a Call, Email or give our Live Chat option a try!
Check out some of our other specialties below. Aren't sure if we can help? Give us a call and we will be more than happy to answer any and all of your questions!
Our team provides a wide range of cooling services with extensive experience working on all makes and models of equipment used in North America.
Our technicians and our company are both ticketed and licensed to work on and install gas piping and appliances & equipment.
Our Heating Repair Vancouver team is second to none. Our technicians are experts that have spent their careers focused on improving their craft.