Furnace Repair and services
Reliable Furnace
Repair and Installation
Is it time to replace your furnace? Maybe you're wrestling with whether or not to just have your furnace repaired or whether now is the time to replace it? You can trust our professionalism and experience to give you the right advice based on both your existing furnace as well as what works best for you financially right now. Unfortunately it is hard to find someone you can trust not to just sell you something you might not need but I promise you we are in this for the long haul and we have no interest in short term relationships! We want to earn your trust and be there for you when you need us.
When it comes to Furnaces there are a few different reasons you might need to call on us. Regular Furnace Maintenance, Furnace Repairs, and Furnace Replacement/Installation.
Try to think of your furnace that same way you would think of your car. You wouldnt buy a nice new car and wait 5 years for the first oil change would you? This is similar to leaving your furnace without an annual maintenance for 5 years. We like to use the saying "Schedule your maintenance or your maintenance schedules you". When it comes to gas fired appliances it is also a matter of safety as well. We check for everything including carbon monoxide which is extremely dangerous but is often something we will find when servicing furnaces that have been ignored or mistreated for too long. 
Our technicians will walk you through the service and explain every detail step by step to make sure you understand what you've just paid for and why it was important. Call today to schedule your furnace repair or maintenance!
Diagnosing Existing Issues and Furnace Repair
Unlike routine maintenance, diagnosing and repairing problems with furnace is a skill set that varies significantly from technician to technician and requires a fair amount of experience in the trade. This is because issues with these systems are typically "layered". Meaning that there are usually surface level issues which are obvious that are caused by one, two or sometimes multiple underlying issues. Without the proper knowledge and experience people unfortunately end up paying for a lot of "bandaid" fixes on surface level issues that continue costing the customers more and more money due to the fact that the underlying cause still exists.
We are extremely lucky to have technicians that have the skills and necessary experience/knowledge to diagnose and do boiler repair or fix heatings systems the first time. We're here for you.
Replacing Furnaces and Installing New Furnaces
We specialize in furnace installations and retrofits. We are regularly replacing old, mid efficient, furnaces with new high efficient furnaces and will help you with your rebates as well! Whether it's a 40,000 BTU furnace in your house or a 120,000 BTU furnace in your building we have the skill and the experience to recommend, design, and install the perfect system for you.
Thinking about adding air conditioning to your system while you're at it? Check out our Air Conditioning pages for more information!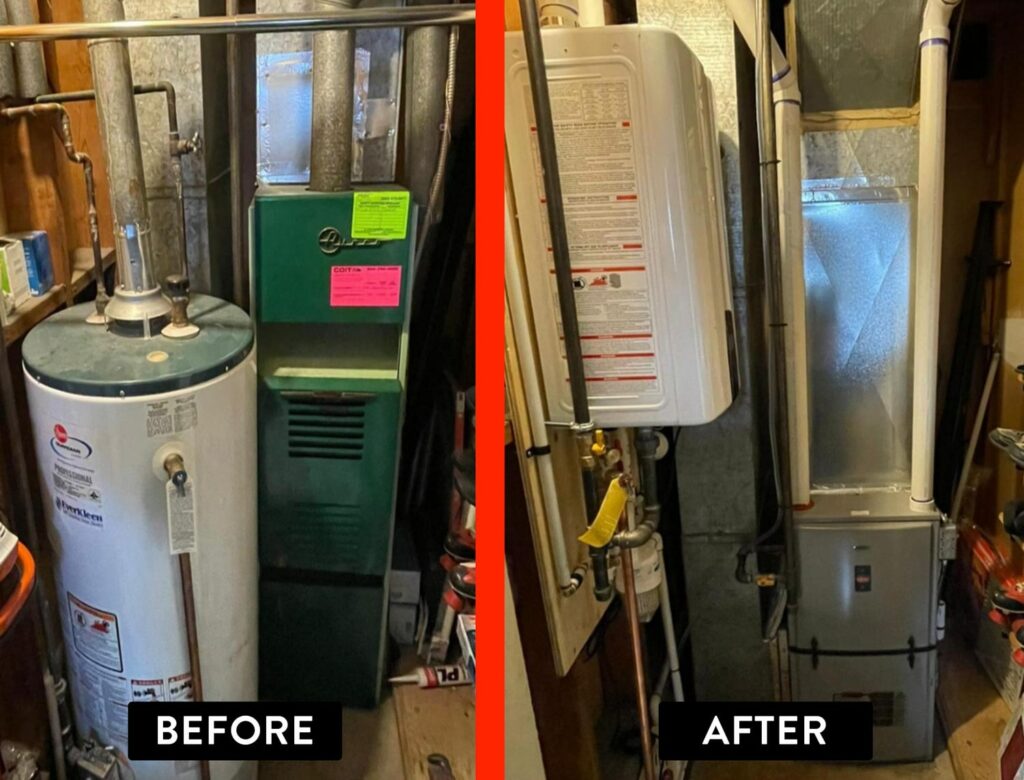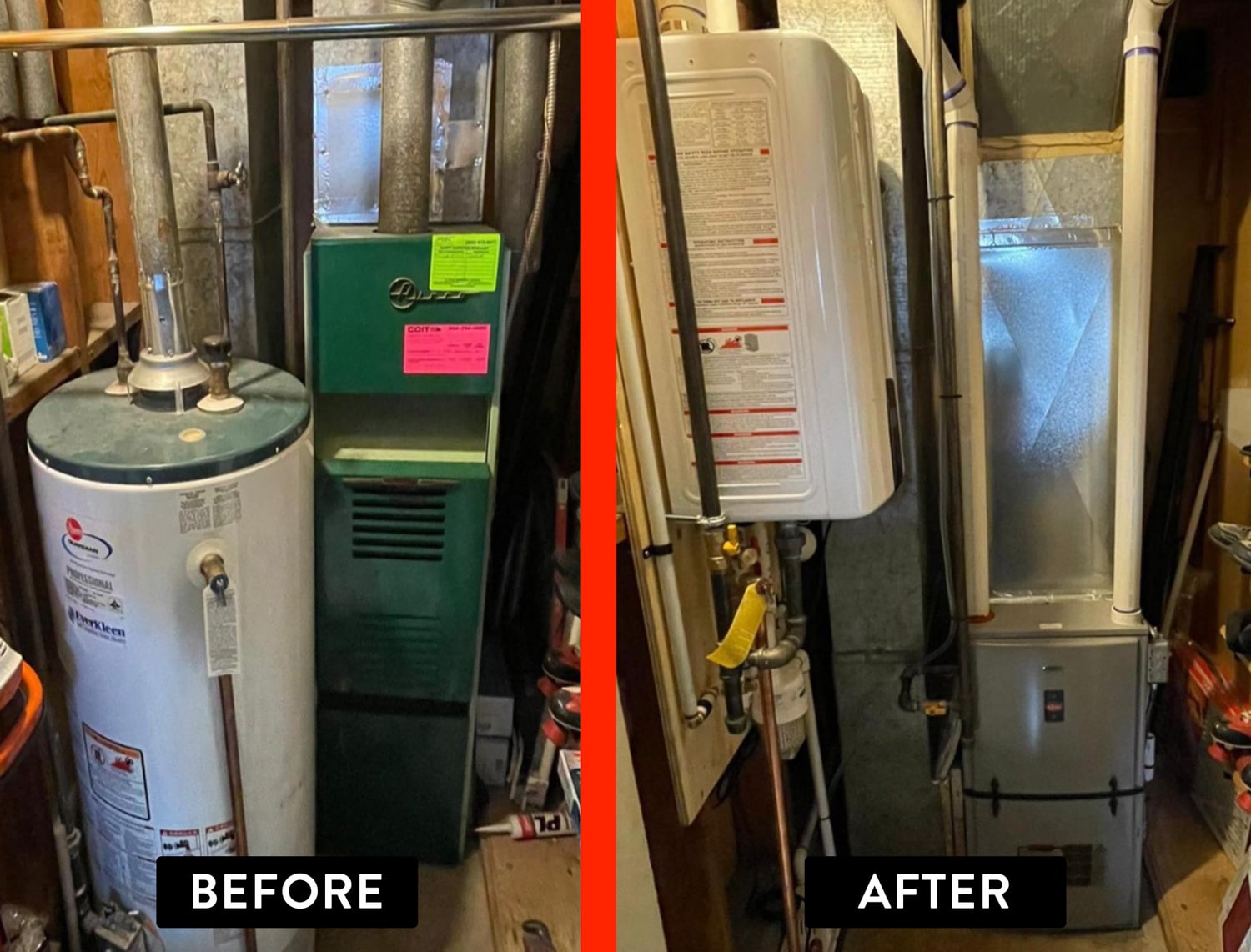 Replacement of Furnace With High Efficiency Furnace and Replacement of Hot Water Tank With High Efficiency Tankless Navien Hot Water Heater. Both Furnace and Water Heater Were Eligible for Rebates.
Check out some of our other specialties below. Aren't sure if we can help? Give us a call and we will be more than happy to answer any and all of your questions!
Our team provides a wide range of cooling services with extensive experience working on all makes and models of equipment used in North America.
If you have a hot water boiler, check out our Boilers page for more information on how our team can help you replace, repair or install your boiler!
Keep your refrigeration systems working reliably with our services which businesses across the lower mainland trust to protect their operations.