Commercial – Residential – Service – Construction
Air conditioning & air conditioning repair is our specialty! Whether you have a central air conditioning system, heat pump, or a ductless mini split, our ac repair man can repair, design and install one of these systems for you. Did you know that 90% or more of the problems that people have with their air conditioning, ductless or heat pump systems stem from mistakes or missed steps during the installation process? This is why it is very important that you hire the right team for the job! 
We would love the opportunity to come out for a free estimate and make sure you get what you/need without any pressure sales tactics. Our process is to educate and let you, our customer, decide what's best for you.
What system is the right system for you?
Read these brief descriptions on each system. Once you figure out the one you need you can click into it and find a more detailed page on that system. Or feel free to just call and one of our specialized  ac repair man technicians and they will answer any questions you need answered.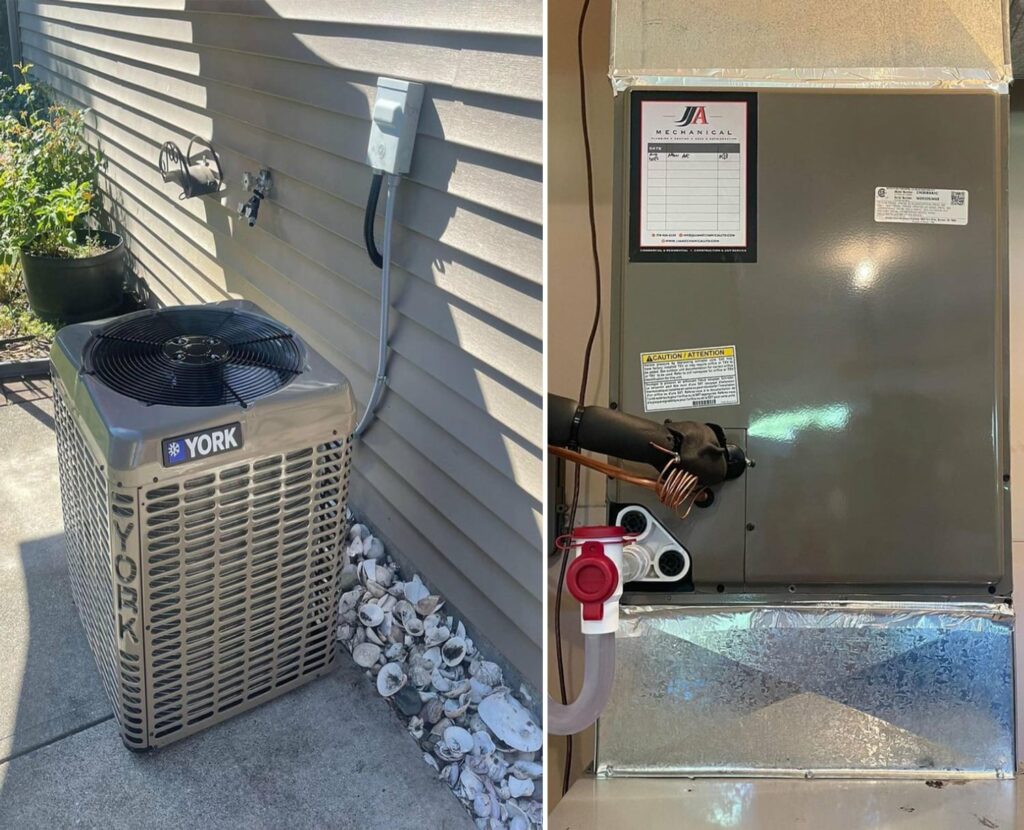 Outdoor condenser/compressor unit and the indoor cased coil on top of this customers furnace. This is a central air conditioning system that provides cooling only (not a heat pump)
Central Air Conditioning Systems
Central air conditioning systems are only an option for you if your home utilizes a furnace for heating. This system uses an indoor coil which is installed on top of the furnace along with an outdoor compressor/condenser. We then run what are called "line sets" which are two copper tubes from the outdoor unit to the indoor unit. These tubes carry refrigerant from the outdoor unit to the indoor coil which is now installed on top of your furnace. We install a new thermostat in your home that has two settings which are Heat and Cool. 
When summer comes around you simply switch your thermostat from Heat over to Cool and select your temperature. Your furnace then turns on but because you selected the cool option the flame no longer fires up. Instead, the fan turns on and the outdoor unit pumps refrigerant through the indoor coil which gets extremely cold. The air that your furnace blows through the coil then comes out of your floor vents/registers cold instead of hot and that is a very base level description on how this system works. Call us for any central air conditioning repair questions!
Ductless Mini Split Systems
Ductless mini split systems are also heat pump systems and are pretty much your only option if you do not have a furnace with ductwork running throughout your home or if you do not want to go through the intrusive and expensive process of installing duct work throughout your home. Hence the name "Ductless". These systems consist of an outdoor unit just like the other systems and an indoor, wall mounted, air handling unit that we install in every room you need air conditioning and/or heating in. We then run a lineset from the outdoor unit to each indoor air handler. 
One of these air handlers will be required for every room/space you need/want cooling or heating in. These systems can have as many as 5 indoor units to a single outdoor unit. Meaning 5 rooms can have cooling/heating or if you are on a budget you could simply just put a single indoor air handling unit in your master bedroom. Reach out to JJ&A ac repair man for any ductless mini split system air conditioning repair services.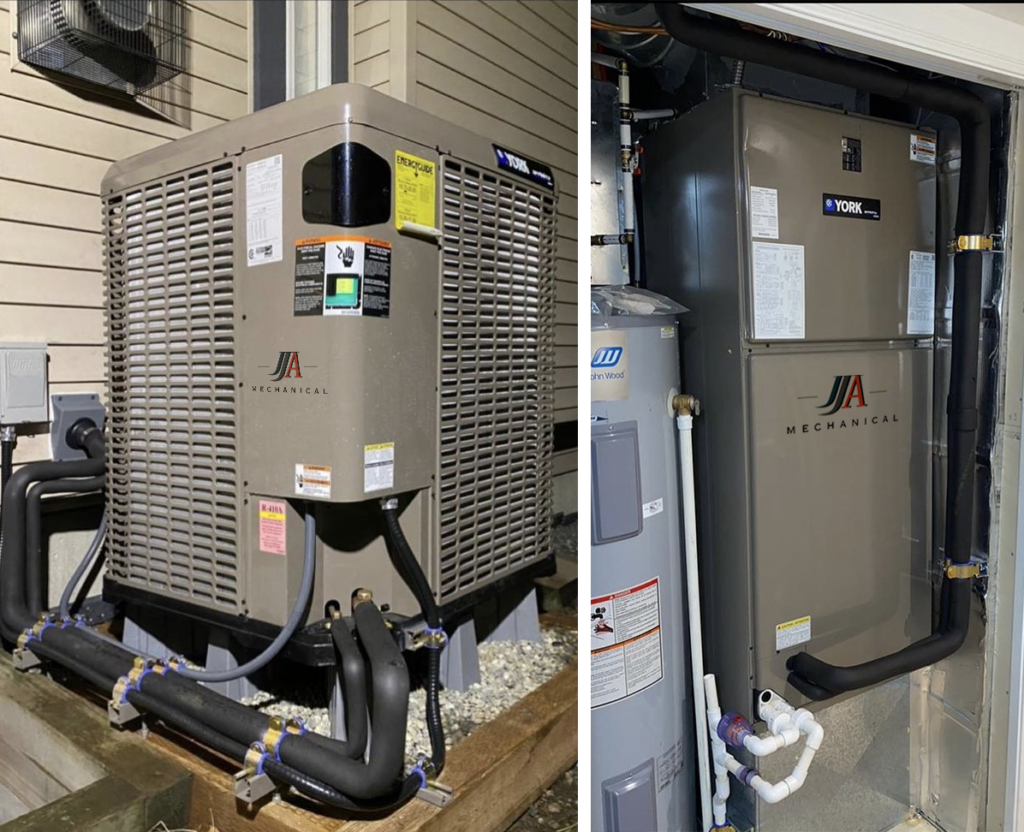 Affinity Series, Rebate qualified heat pump. 5 Ton, 20 SEER, fully communicating unit with digital read out. This unit is the houses main / only source for heating and cooling this house.
Central Heat Pump Systems
Central Heat Pump systems are air conditioning systems that can also provide heating to your home. Despite the name, heat pumps do not generate heat – they move heat from one place to another. A furnace creates heat that is distributed throughout a home, but a heat pump absorbs heat energy from the outside air (even in cold temperatures) and transfers it to the indoor air. When in cooling mode a heat pump and an air conditioner are functionally identical, absorbing heat from the indoor air and releasing it through the outdoor unit. 
 To conclude, a heat pump is an air conditioning unit with the capability of reversing its operations from absorbing heat from the inside of the house and expelling it outside the house to absorbing heat from the outside the house and expelling it inside the house.
we can help you make the

right decision
When considering which type of system is best for your home, several important factors should be considered, including the size of the home and the local climate. JJ & A Mechanical has the expertise to properly evaluate your specific needs and help you make the right decision for you, not for us.
Check out some of our other specialties below. Aren't sure if we can help? Give us a call and we will be more than happy to answer any and all of your questions!
Keep your refrigeration systems working reliably with our services which businesses across the lower mainland trust to protect their operations.
Our Heating Repair Vancouver team is second to none. Our technicians are experts that have spent their careers focused on improving their craft.
If you have a hot water boiler, check out our Boilers page for more information on how our team can help you replace, repair or install your boiler!