Tankless Water Heater Repair & Installation Services
Vancouver Tankless Water Heater Repairs & Installations
Trust JJ&A Mechanical with your regular tankless hot water heater maintenance, repairs, and replacement/installation.
Let's Get Your Tankless Water Heater Work Covered!
What is a Tankless Hot Water Heater?
The name says it all! A tankless hot water heater is a high efficient appliance that instantaneously heats your cold water into hot water as you use it. Your traditional hot water tank stores within itself and heats an entire tank full of water (typically around 40 to 50 gallons). Regardless of if you are using that water at the time or not, traditional hot water tanks will keep that water hot and ready to go, which means it's always working even if you are not using it! Tankless hot water heaters simply heat the water up as the water passes through them. 
They do not store any water at all and are only ever working when someone is using hot water. Not only is this much more efficient because you are using far less natural gas, but this also means that you will never use up all of your hot water! Fill a tub multiple times, have multiple people showering for way longer than they should, run multiple cycles of the laundry machine or dishwasher and even still anyone in your house will be able to have a long hot shower immediately after.
Benefits of Installing a Tankless Hot Water System
Unlimited Hot Water
Tankless hot water heaters heat the water up as it runs through its heat exchanger rather then storing hot water. This means regardless of how much hot water you use the water coming out of your taps will always be hot!
Saves You Money
Did you know that tankless is cheaper than replacing your hot water tank? Let us explain! Your typical hot water tank warranty is 6 years. We know, as plumbers, that this means the manufacturers who provide these warranties are not confident that their hot water tanks will survive longer than this. What we are seeing out in the field is a typical life span between 6 and 12 years on a tank. A tankless water heater made by Navien will last you between 18-20 years if installed correctly and properly serviced when needed. That is more than double the expected lifespan of a tank.
So with the major difference in lifespan it's fair to say that whether you buy two hot water tanks in 20 years or a single Tankless water heater in 20 years you will have spent around the same price! Only difference is that one provides endless hot water, is highly efficient and will cost less in utility bills!
Because they are 96% efficient and because they only work when hot water is being used your utility bill will be reduced as a result.
Rebates are Available
By swapping your hot water tank out for a tankless unit, you are now eligible for significant savings with rebates from Fortis BC. After deducting your rebate from the installation cost, and taking into consideration the difference in life expectancy between a tank and a tankless system, we can confidently say the tankless option is the more affordable option in the long run.
Better Efficiency & Environmental Impact
Your average hot water tank is about 58 – 60% efficient. This means that about 58-60% of the gas burnt to heat your hot water is effectively converted to heat. Tankless hot water heaters are 96% efficient. On top of that the tankless unit will only fire up when you are actually using hot water because it heats as needed. This increases efficiency even further!
Saves Space
Switching from a tank to a tankless water heater increases the amount of space in your mechanical room. Because the tankless is wall hung and much smaller than a tank there will be much more space to move around in there when needed.
We Recommend Navien Tankless Units
We choose to install tankless units manufactured by Navien because they are tried, tested and true. Navien has created a tankless unit that is extremely easy to service/maintain, and they have made sure that every little component in their units are readily available in the lower mainland and Fraser Valley. They have been innovating with tankless water heaters longer than almost anybody, and we have not had a single complaint from our customers about one of our installations.
Navien is the obvious choice in our eyes.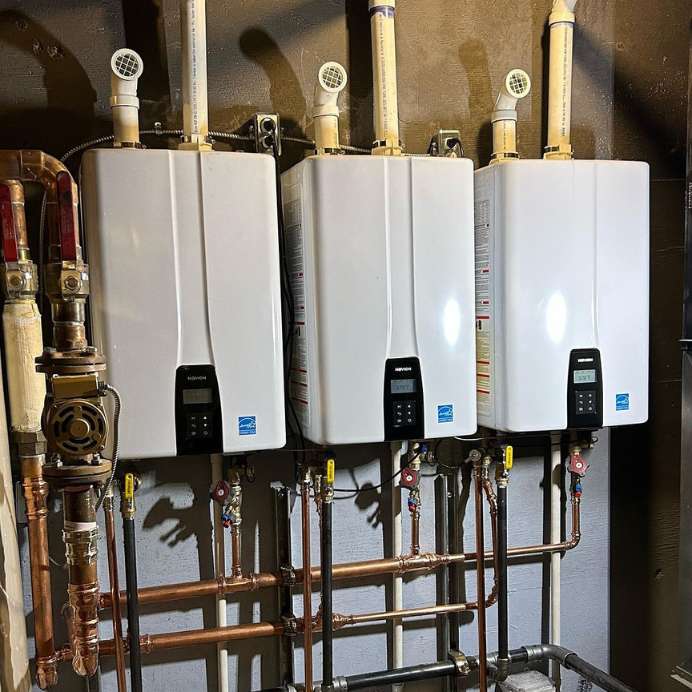 Get in touch with us today to schedule an appointment or inquire about a free quote!
Why Choose JJ&A Mechanical's Tankless Water Heater Services?
Our team of professionals brings years of experience in tankless hot water heater solutions, ensuring you receive advice and service you can trust.
We offer a curated selection of top-tier tankless hot water heaters known for their reliability and durability.
From choosing the right tankless unit, to expert installation and maintenance tips, we're here to provide comprehensive support every step of the way.