Vancouver Residential Heating Repair & Service
Make sure that your home stays warm and comfortable during the cold winter months,
 with expert home heating services from JJ&A Mechanical. 
Let's Get Your Residential Heating Work Covered!
Home Heating Repair Vancouver
If your home heating system has been leaving you cold lately, call in the experts at JJ&A Mechanical! Our technicians specialize in repairing home heating systems, so whether your home heating is inconsistent, not warm enough, or not working at all, we have the expertise to pinpoint the problem and find a solution.
In British Columbia, residents typically heat their homes with boilers, furnaces, or heat pumps. Our honest, expert technicians specialize in all 3 of these and are proud to provide Vancouverites with reliable home heating repairs, installations, and maintenance.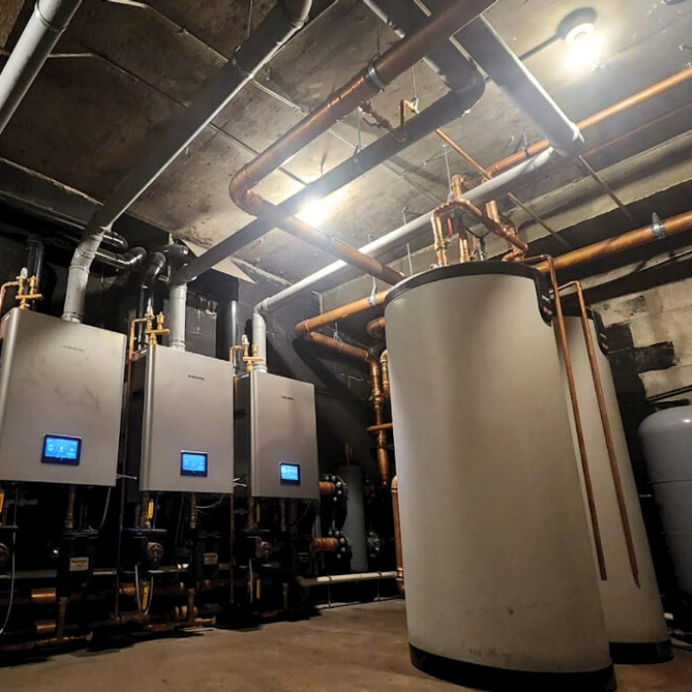 Boilers work by heating up water and then using pumps to send that hot water through pipes to different areas of your house. This hot water moves to baseboards, in-floor heating systems, or radiators in your home to create a cozy environment. After the hot water has done its job, it goes back to the boiler, where it gets heated up again. This hot water keeps circulating in a loop until your thermostat tells the boiler that your home is warm enough.
Common Signs Your Boiler Needs Repair
Rattling or rumbling sounds
These sounds can be a sign of a number of issues, including sediment buildup, poor combustion, a malfunctioning circulator pump, and more.
Leaks
Leaks can occur due to a cracked or corroded boiler tank, damaged seals, or a faulty pressure relief valve. If left unchecked, a leak could eventually result in the full breakdown of your boiler.
Unusual smells coming from the boiler
Strange smells may be associated with components overheating, electrical problems, or even gas leaks.
Unexplained increase in your monthly bill
An unusually high bill may mean your boiler is running inefficiently due to buildup of scale, poor water circulation, or faulty components like the thermostat or zone valves.
Lack of heat or uneven heating
Possible causes for this issue include airlocks in the radiators or pipes, low water pressure, a malfunctioning circulator pump, or a faulty thermostat.
A furnace is a type of heating system that uses a powerful fan to push air over a hot metal part called a heat exchanger. The exchanger gets heated up by a flame fueled by natural gas. The hot air leaves the furnace and travels through the ducts in your house to designated registers or vents, usually in the floor of each room. The vents blow out the warm air to heat your home to your desired temperature.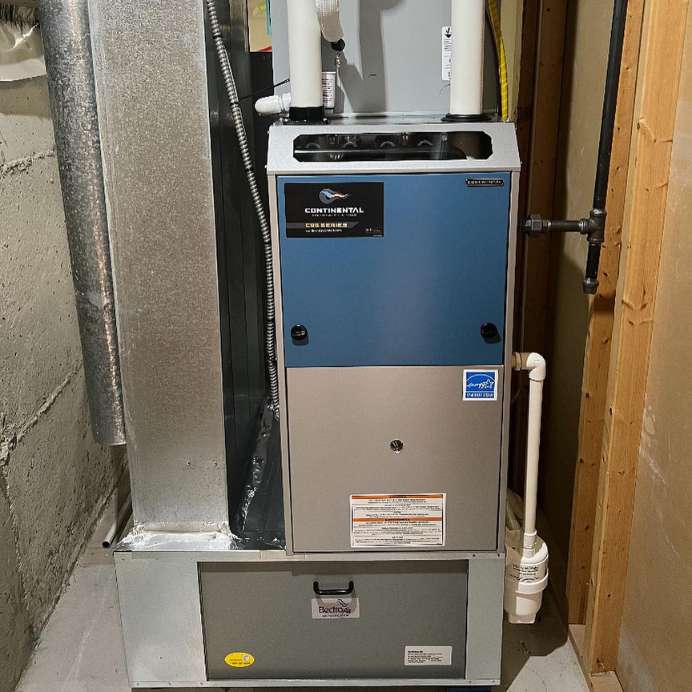 Common Signs Your Furnace Needs Repair
Frequent cycling on and off
Furnaces are designed to operate in cycles, with breaks in between to maintain a comfortable temperature. However, if you notice that your furnace is turning on and off frequently within a short period, it could be a sign of a malfunctioning thermostat, clogged air filters, or a faulty flame sensor.
Unusual noises
Banging, clanging, rattling, whistling, or squealing sounds are often a sign of loose or damaged components such as belts, bearings, or blower motors.
Yellow or flickering pilot light
If your furnace uses a pilot light, it should burn a steady blue flame. A yellow or flickering pilot light can be a sign of incomplete combustion, which could be due to a clogged or dirty burner, improper gas pressure, or a faulty thermocouple.
Unexplained increase in your monthly bill
A sudden spike in your bill with no obvious explanation could mean your furnace is functioning inefficiently due to issues like a clogged air filter, duct leaks, or a malfunctioning thermostat.
Lack of heat or uneven heating
This can result from various issues, including a malfunctioning thermostat, a blocked air filter, a faulty blower motor, or a broken heating element.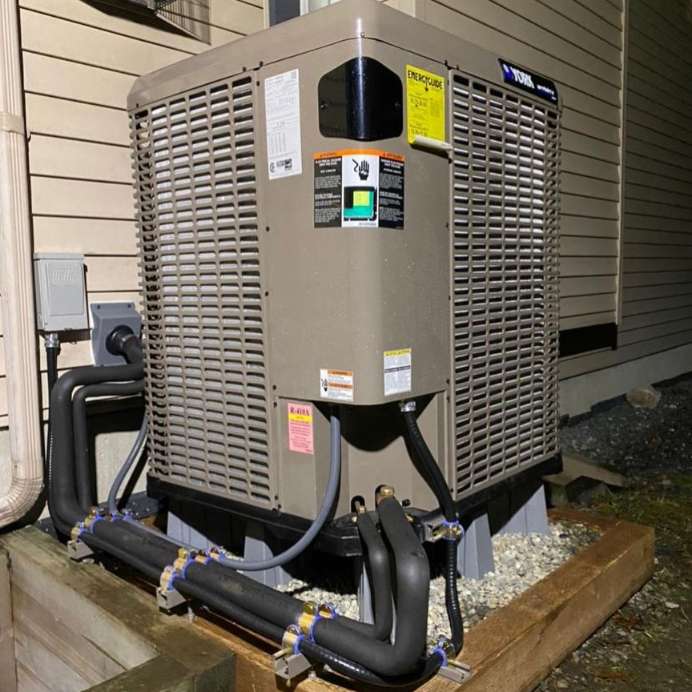 Heat pump systems work both as air conditioners and heaters for your home, but here's the interesting part: they don't actually make heat. Instead, they take heat from one place and put it in another!
Think of it this way: a furnace makes heat inside your home and spreads it around, but a heat pump grabs heat from the outside air, even when it's cold out, and brings it inside to warm your home. When you use a heat pump for cooling, it's just like an air conditioner. It pulls heat from inside and pushes it outside. So, in a nutshell, a heat pump is like an air conditioner that can switch between cooling your home and warming it up by moving heat around.
A heat pump can also be used in combination with a furnace, which is called a "dual fuel" system, or it can be used as a stand-alone fully electric full home heating system.

Common Signs Your Heat Pump Needs Repair
Frequent cycling on and off
If your heat pump is constantly cycling on and off, it may be struggling to maintain your desired temperature. This can not only reduce comfort but also lead to higher energy bills.
Grinding, squealing, or hissing sounds
These noises may indicate worn-out or damaged components. Ignoring them could lead to more involved and expensive repairs down the road.
Decrease in airflow
A noticeable decrease in the airflow from your heat pump's vents can mean restricted airflow or clogged filters.
Unexplained increase in your monthly bill
If you've noticed a sudden spike in your monthly energy bill without any changes in usage, your heat pump may be operating inefficiently. We'll assess your system's performance and recommend cost-effective solutions to lower your energy bill.
Insufficient heating or cooling
Perhaps the most obvious sign of trouble is when your heat pump fails to deliver the level of heating or cooling you expect. If you find your home uncomfortable due to insufficient temperature control, it's time to schedule a professional inspection.
Our technicians have plenty of expertise when it comes to boilers, furnaces, and heat pumps. We are skilled in identifying the problem when your heating system starts malfunctioning and are dedicated to finding a long-term solution for your home.
Home Heating Installation Vancouver
Our expert team in Vancouver is here to help you find the perfect heating solution tailored to your home's unique needs. With energy-efficient furnaces, boilers, and heat pumps, we offer a wide range of high-quality heating systems to keep you cozy all winter long.
If you are not sure if your heating system needs to be replaced or just repaired, trust the team at JJ&A Mechanical. We will inspect your current heating system and give you our professional recommendation on whether or not you should replace it. Our technicians pride themselves on transparency and will never recommend installing a new unit unless it is the more cost-effective option for you.
If you do need a replacement, or a brand-new installation, our skilled team will handle the job with precision and attention to detail, ensuring optimal performance and longevity. Not only will our heating systems provide you with unparalleled comfort, but they'll also help you save on energy bills in the long run. Contact us today and find the right heating solution for your home!
Combination Boiler Installations
Boiler Installation/Replacement/Repair
Geothermal & Solarthermal
In floor Radiant Heating
Pool Boilers/Heating Systems
Tankless Water Heaters
Hydronic Heating Systems
Radiator/Baseboard Heater Repair/Replacements
Snow Melt Systems
Flue Gas Analyzation
Venting
Furnace Servicing/Repair/Installations
Roof Top Units
Radiant Tube Heaters
…And so much more
Home Heating Maintenance Vancouver
Regular maintenance is essential to keep your home heating system working efficiently and effectively for years to come. At JJ&A Mechanical, our honest and skilled technicians are here to help by providing regular furnace, boiler, and heat pump inspections and tune ups. Book heating inspections annually to keep your system in optimal working order and catch minor issues before they become severe problems.
Before & After Installation Comparisons
Why Should You Choose JJ&A Mechanical?
All of our technicians are fully licensed, highly skilled, and receive ongoing extensive training to ensure that they are up on the newest industry innovations. When you choose JJ&A Mechanical, you are choosing dedicated professionals.
Our team is also made up of long-time locals. That means you can depend on our in-depth knowledge of Vancouver-specific requirements, such as building codes, regulations, provincial rebates, and region-specific plumbing and heating concerns.
We are proud to offer our residential heating services throughout Greater Vancouver and the Fraser Valley, including Surrey, Langley, Abbotsford, and Chilliwack. Our service areas are always expanding to ensure that we can help as many clients as possible.
Trust the dedicated team at JJ&A Mechanical with your heating needs. From emergency repairs to installations and regular maintenance, we're committed to providing you with the best heating solutions tailored to your home. Don't suffer this winter – contact us today to schedule your next service.
Initial Assessment & Consultation
We ask the right questions to provide you with the right service and technician. We learn about your issue first so you don't waste time or money getting you the result you need.
We provide free on site estimates. Our friendly managers will meet you on site, at your home or your business to go over your project in detail. A quote will be provided to you within 48 hours of meeting with us. 
Our technicians will arrive with everything they need for a job well done. Once completed, we will explain the work completed and answer any questions you may have and leave you feeling confident.
Our job isn't done when we leave. We always follow up to make sure you are happy with your service and to answer any outstanding questions or concerns.