Vancouver Air Conditioning Repair & Installation Services
Residential Cooling Services Across Vancouver
Looking for reliable air conditioning solutions in Vancouver and the surrounding area? You've come to the right place! Our skilled team specializes in top-tier residential cooling and air conditioning services, customized to your individual home's needs. With our commitment to excellent workmanship and outstanding customer service, we offer a comprehensive range of services to keep your home cool and comfortable all year round. If you run a business, we also offer commercial cooling services.
Let's Get Your Residential Cooling Work Covered!
Residential Cooling & Air Conditioning Services
When you choose JJ&A Mechanical, you get expert service that revolves around our core values of transparency, effective communication, and trust. In addition to providing expert workmanship on every project, we keep our clients informed every step of the way. By fostering open and honest communication, we ensure that our clients have a complete understanding of the services they require and the options available to them. We encourage customers to ask questions and are always happy to give you more information and professional recommendations.
What A/C System Is Right For You?
Central Heat Pump Systems
Heat pumps are essentially air conditioners that can provide both heating and cooling. Despite the name, heat pumps do not generate heat – they move heat from one place to another. A furnace creates heat that is distributed throughout a home, but a heat pump absorbs heat energy from the outside air (even in cold temperatures) and transfers it to the indoor air. When in cooling mode, a heat pump and an air conditioner are functionally identical, absorbing heat from the indoor air and releasing it through the outdoor unit. Many people opt to install heat pumps in their homes because it is a convenient way to have both cooling and heating in one simple system. We provide comprehensive service for heat pump systems, including installation, maintenance, and repairs.

Tell Me More About Heat Pumps 
Ductless Mini Split Systems
Ductless mini split systems are also heat pump systems, and are pretty much your only option if you do not have a furnace with ductwork running throughout your home (or do not want to go through the intrusive and expensive process of installing said duct work).  These systems consist of an outdoor unit and an indoor, wall mounted, air handling unit that we install in every room you need air conditioning and/or heating in.
Central Air Conditioning Systems
Central air conditioning systems are only an option for you if your home utilizes a furnace for heating. This system uses an indoor coil which is installed on top of the furnace, along with an outdoor compressor/condenser. When summer comes around, you simply switch your thermostat from Heat over to Cool and select your temperature.
Whatever cooling services you need, our team is equipped to find the solution.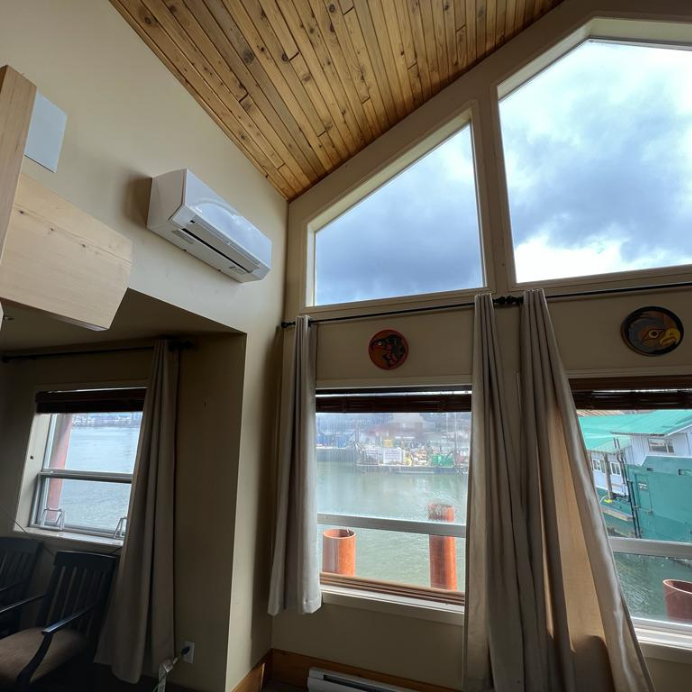 Residential Air Conditioning Repair Vancouver
There's nothing worse than having your air conditioner break on a hot day. If this happens to you, our technicians are here to swiftly and expertly diagnose and repair any issues. Our residential air conditioning repair services are designed to get your A/C unit back up and running smoothly, so you can feel comfortable in your own home again as soon as possible. We prioritize emergency jobs and are available 24/7.
Common Signs Your A/C Needs Repair
Inconsistent temperature
Fluctuations in the temperature settings can indicate issues with the thermostat or sensor.
Blowing warm air
If your A/C is blowing warm air, it might be due to a refrigerant leak or a problem with the compressor.
Decreased airflow
This could be a result of clogged filters or broken motors.
Unusual noises
Hearing strange noises could indicate a mechanical problem or loose parts in the A/C unit.
Leaks
Water leaks might be a sign of a blocked drain pipe or a refrigerant leak.
Thermostat not working
A non-responsive thermostat can be a sign of electrical issues or dead batteries.
Air Conditioning Installation Vancouver
Upgrade your living space by installing an air conditioner to keep your home cool and comfortable all year round. Proper installation of an A/C unit is essential to ensure its optimal performance for years to come. Every home is different and many require tailor-made solutions to ensure a cooling system that performs optimally and maintains a comfortable temperature throughout the space. Our team works to identify your home's specific cooling needs and provides custom-tailored solutions.
Whether you want to replace an outdated air conditioning system or install one for the first time, the team at JJ&A will provide a seamless installation process. Say goodbye to restless nights of tossing and turning due to the heat – we're just a call away.
Call or text today! 778-926-6539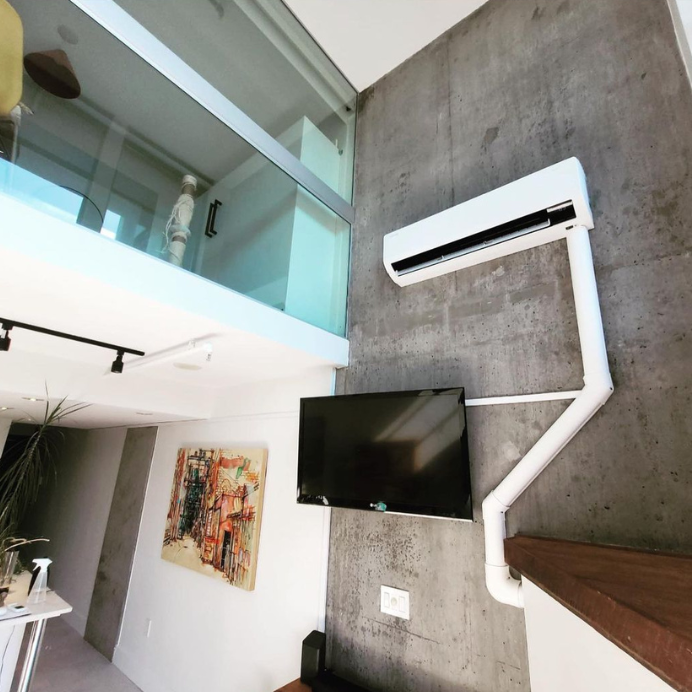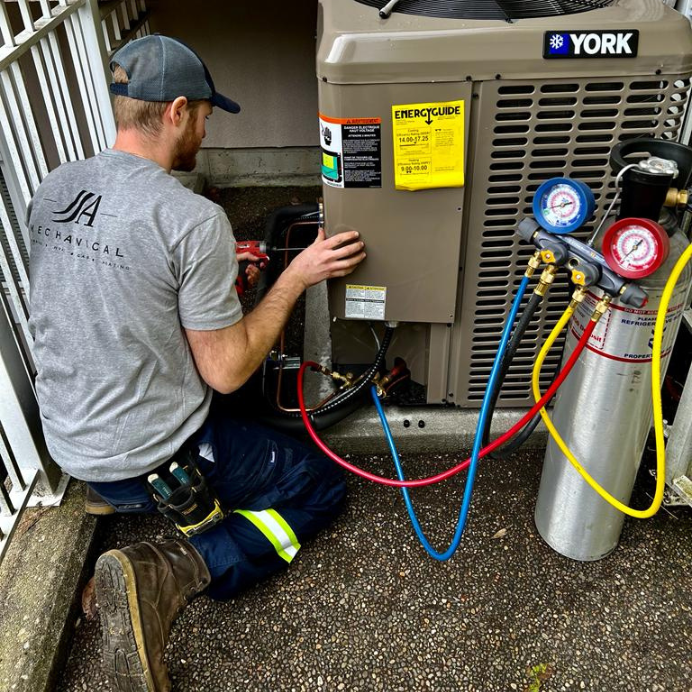 Air Conditioning Maintenance Vancouver
Regular maintenance is key to preventing surprise breakdowns and extending the life of your air conditioning system. We recommend booking a routine air conditioner maintenance appointment once every year. Our A/C maintenance appointments include full inspections, cleaning, and tune-ups to keep your air conditioner running smoothly. Annual maintenance also improves the energy efficiency of your unit, which translates to savings on your monthly bill.
Get in touch with us today to schedule an appointment or inquire about a free quote!
Why Should You Choose JJ&A Mechanical?
All of our technicians are fully licensed, highly skilled, and receive ongoing extensive training to ensure that they are up on the newest industry innovations. When you choose JJ&A Mechanical, you are choosing dedicated professionals.
Our team is also made up of long-time locals. That means you can depend on our in-depth knowledge of Vancouver-specific requirements, such as building codes, regulations, provincial rebates, and region-specific plumbing and heating concerns.
We are proud to offer our residential cooling services throughout Greater Vancouver and the Fraser Valley, including Surrey, Langley, Abbotsford, and Chilliwack. Our service areas are always expanding to ensure that we can help as many clients as possible.
Trust the dedicated team at JJ&A Mechanical with your A/C needs. From emergency repairs to installations and regular maintenance, we're committed to providing you with the best cooling solutions tailored to your home. Don't let the heat get the best of you – contact us today to schedule your next service.
Initial Assessment & Consultation
We ask the right questions to provide you with the right service and technician. We learn about your issue first so you don't waste time or money getting you the result you need.
We provide free on site estimates. Our friendly managers will meet you on site, at your home or your business to go over your project in detail. A quote will be provided to you within 48 hours of meeting with us. 
Our technicians will arrive with everything they need for a job well done. Once completed, we will explain the work completed and answer any questions you may have and leave you feeling confident.
Our job isn't done when we leave. We always follow up to make sure you are happy with your service and to answer any outstanding questions or concerns.