Heat Pump Installation Near Me
If you're looking for a reliable and efficient heat pump installation near me, and a way to heat and cool your home, a heat pump might be the solution you need. Heat pumps are a popular choice for homeowners in many parts of the world, including Canada. If you're considering installing a heat pump, JJ&A Mechanical isa trusted company with experienced technicians near you.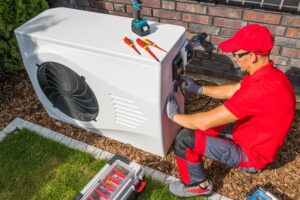 Why Choose a Heat Pump?
Heat pumps are an excellent alternative to traditional heating and cooling systems. They are energy-efficient, environmentally friendly, and can reduce your energy bills significantly. Unlike traditional HVAC systems, which generate heat by burning fuel, heat pumps extract heat from the air, ground, or water, and move it from one place to another. This means that they use much less energy than traditional systems, resulting in lower energy bills and a smaller carbon footprint.
Benefits of Installing a Heat Pump with JJ&A Mechanical
At JJ&A Mechanical, we have a team of experienced technicians who can help you choose the best heat pump for your home and install it with precision and care. Our technicians are trained to work with different types and brands of heat pumps, including air-source, ground-source, and ductless mini-split systems. Here are some of the benefits of choosing JJ&A Mechanical for your heat pump installation:
Experience: Our technicians have many years of experience in the HVAC industry, and they have installed heat pumps in many homes across the area. You can trust us to get the job done right the first time.
Quality products: We only work with the best products in the industry, ensuring that your heat pump is reliable, efficient, and durable.
Customization: We understand that every home is different, and we'll work with you to find the best heat pump that meets your needs and budget.
Financing: We offer financing options that can help you manage the cost of your heat pump installation. We'll work with you to find the best financing option that fits your budget.
Why JJ&A Mechanical is the Best Choice for Your Heat Pump Installation near me?
Choosing the right company for your heat pump installation is essential to ensure that you get the most out of your investment. At JJ&A Mechanical, we are committed to providing our clients with the best possible service and support. Here are some of the reasons why we're the best choice for your heat pump installation:
Reliability: We take pride in our work and guarantee that your heat pump will be installed correctly and efficiently.
Customer service: Our team is always available to answer your questions and address any concerns you may have. We believe in building long-term relationships with our clients based on trust and integrity.
Cost-effectiveness: Our heat pump installation services are competitively priced, and we offer financing options that can help you manage the cost of your investment.
If you're looking for a reliable and experienced company to install your heat pump, look no further than JJ&A Mechanical. Contact us today to schedule your heat pump installation appointment and start enjoying the benefits of an energy-efficient and environmentally friendly heating and cooling system.