At JJ&A Mechanical, we pride ourselves on our unwavering commitment to quality and customer satisfaction. Our story begins with a simple but powerful principle: we would rather turn down a job than compromise on our standards or deliver subpar work. This philosophy sets us apart from the competition and forms the foundation of our unique approach.
Unlike some companies driven solely by profit, we prioritize doing the job right the first time. Our dedication to excellence means that we never cut corners or perform tasks incorrectly to meet price constraints imposed by clients or competitors. Our focus is not solely on seeking top-dollar jobs; rather, we prioritize delivering top-quality service, ensuring that every project meets our rigorous standards.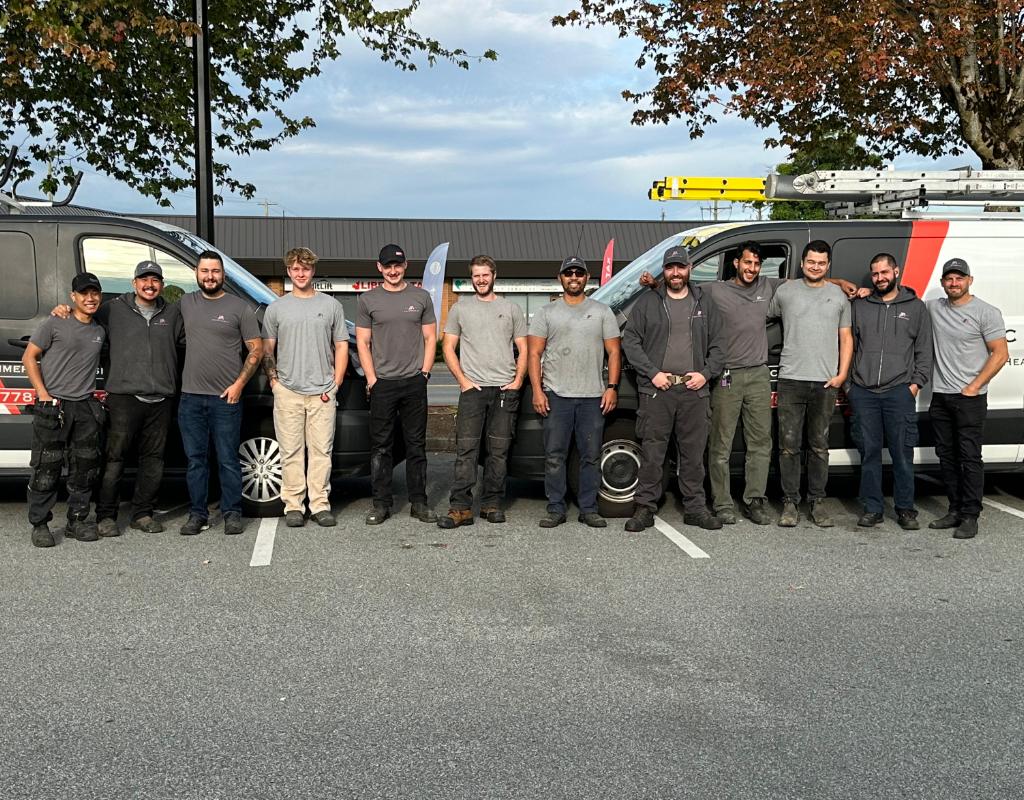 Our core values revolve around honesty, effective communication, and building trust with our customers. We understand the importance of transparency in our interactions and strive to keep our clients informed every step of the way. By fostering open and honest communication, we ensure that our clients have a complete understanding of the services they require and the options available to them.
Our plumbing & HVAC technicians are experienced, fully licensed, highly skilled, and receive ongoing extensive training to ensure that they are up on the newest industry innovations. We are also a team of long-time locals, which means we have in-depth knowledge of Vancouver-specific requirements, including building codes, regulations, provincial rebates, and region-specific plumbing and heating concerns.
Top Reasons to Choose JJ&A Mechanical
We also offer 24/7 emergency services for those plumbing and HVAC problems that need to be addressed ASAP.
1) Initial Call & Assessment
The first step to working with us is your initial phone call. We'll ask you for details of the job you need done. Once you give us some basic information about the work you want done, we work with you to develop customized solutions and give you our professional recommendations on the best next steps.
We believe in being open and transparent about our pricing–we know there's nothing worse than expecting one price and then getting slapped with a very different bill after the work has already been completed. Once we assess your needs, we'll provide you with detailed cost estimates, clearly explaining what work will be done and how much it will cost. Our main goal is to make sure you understand the total investment required for your plumbing or HVAC project so that you can make informed decisions confidently.
Once we've gone over your projected pricing and agreed upon an estimate, we get to work! Our skilled team follows industry best practices and uses advanced tools and techniques to ensure high quality, efficient work. We make it a priority to minimize disruptions to your daily life and complete the project within the agreed-upon timeframe.
4) Quality Assurance & Follow-Up
We always test all of our work after completing it to make sure that everything has been done properly. We also offer followup support and are happy to address any questions or concerns you have after we complete our work.
When it comes to finding a trustworthy plumbing, heating, and cooling company, we believe that our track record speaks for itself. We have earned a reputation for delivering exceptional service and building lasting relationships with our clients. Don't take a gamble when it comes to your plumbing, heating, and cooling needs—check out our reviews and discover why we are the trusted choice in the industry.
At JJ&A Mechanical, our commitment to quality, integrity, and customer satisfaction sets us apart. We genuinely care about our customers and approach every project with the same level of attention and care we would provide to our own family.